Instant quote, right now!

Granite Countertops Projects
Denver, CO Granite SITE
4/21/2021 7:32:00 AM
[Details]
Littleton, CO Granite SITE
4/21/2021 7:03:00 AM
[Details]
Suncook, NH Granite IN-DIS
4/21/2021 6:30:00 AM
[Details]
Raymond, IL Granite Call-In
4/21/2021 5:58:00 AM
[Details]
Achilles, VA Granite Call-In
4/21/2021 5:52:00 AM
[Details]
Drybranch, WV Granite Call-In
4/21/2021 5:52:00 AM
[Details]
New Port Richey, FL Granite Call-In
4/21/2021 5:31:00 AM
[Details]
Midlothian, VA Granite ESTIMATE
4/21/2021 5:01:00 AM
[Details]
Lanesville, IN Granite ESTIMATE
4/20/2021 7:07:00 PM
[Details]
Jacksonville, FL Granite ESTIMATE
4/20/2021 7:03:00 PM
[Details]
Spring, TX Granite ESTIMATE
4/20/2021 6:05:00 PM
[Details]
Glendora, CA Granite Call-In
4/20/2021 5:51:00 PM
[Details]
Land O Lakes, FL Granite Call-In
4/20/2021 5:00:00 PM
[Details]
Holly Pond, AL Granite Call-In
4/20/2021 4:59:00 PM
[Details]
Achilles, VA Granite Call-In
4/20/2021 4:40:00 PM
[Details]
San Jose, CA Granite Call-In
4/20/2021 4:35:00 PM
[Details]
Levittown, NY Granite RFQ
4/20/2021 4:24:00 PM
[Details]
Sacramento, CA Granite Call-In
4/20/2021 4:19:00 PM
[Details]
Cataumet, MA Granite Call-In
4/20/2021 4:10:00 PM
[Details]
1 2 3 4 5 6 7 8 9 10 11 12 13 14 15 16 17 18 19 20 21 22 23 24 25 >>
The main factor in the cost variations are:
the stone, the quality of craftsmanship
and the level of service provided.
Remodeling your kitchen in granite may be one of the top improvements a homeowner can make.
Nothing compares to the beauty of natural granite, and its functionality only adds to its value. Harder than steel, true granite takes on a mirror-like finish that requires minimal upkeep. Granite, however, can also be one of the more expensive improvements. There do exist several options, some of which a do-it-yourselfer can accomplish relatively easily, but at a cost. Tile, modular and slab granite are the three options available to the homeowner. There are pros and cons to each option.
---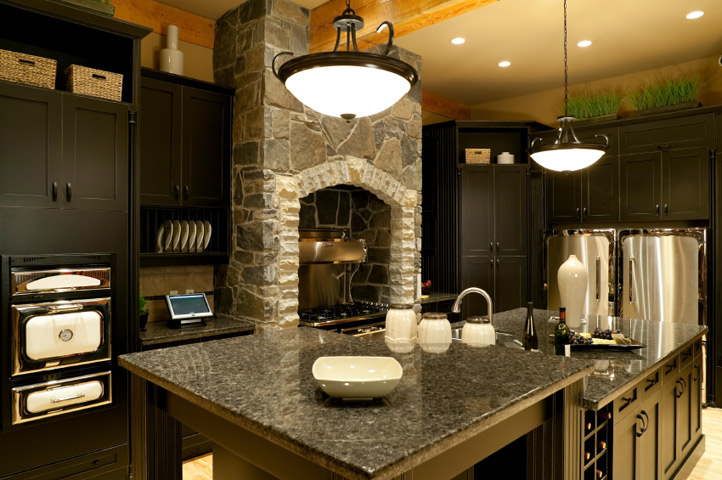 The first and least expensive option is tile.
Yes, tile! A quick search on the internet will reveal prices from around $3.00 a square foot on up. With a wet saw and a quality bonding adhesive, the homeowner can renovate their countertops and achieve the granite look. While this is certainly the most cost-effective option, there are several cons. First, there will be seams. Lots of them. Part of the functionality of slab granite is the absence of seams which, in a kitchen, is a benefit. Water, sauces, oils and other cooking ingredients can seep into those seams. In addition, the aesthetic appeal of granite can be lessened by the presence of many seams. Tile is the most cost-effective option, but the cons may outweigh the advantages.
" If you are doing this for resale value... DON'T! "

---
A second option lies somewhere between tile and slab granite.
Modular granite comes in prefabricated sections that are meant to be installed in pre-existing kitchens. They include edging, backsplashes and sink cut-outs, and are reasonably priced. The do-it-yourselfer can perform the installation as well, making modular granite an attractive option for budget-conscious homeowners. The major drawback is, again, seams. Seams in a kitchen environment are not desirable. As well, the beauty of granite can be undermined by the prefabricated appearance or the quality of the install. However, it may be the route to go for the homeowner on a budget.
"You will have seams and little to no consideration to color matching as you cannot adjust the stones position before cutting. This too will accent the seams"

---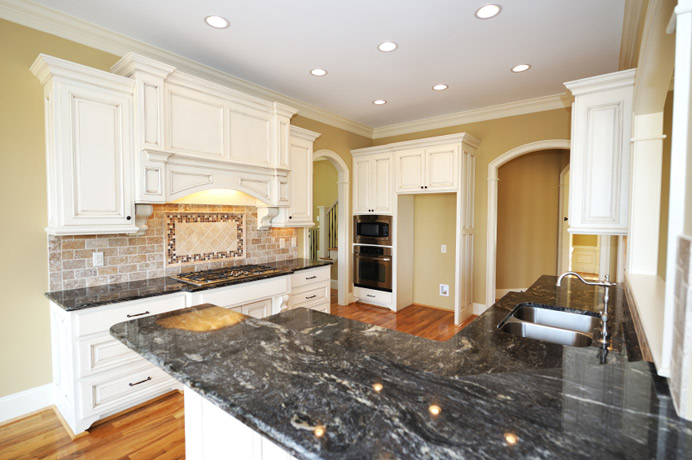 The third option is slab granite.
It is the least cost-effective option, but is really the pinnacle of kitchen improvement. Slabs of granite are cut to order and installed by professionals. Pricing can start at around $40 per square foot, but installation, backsplashes and edging can all contribute to the cost. The result, however, can justify the expense. There are no seams, or limited seems is well positioned places, which is ideal for the kitchen environment. The homeowner is not limited by prefabricated materials; slab granite can be customized to exact specifications. Above all, the aesthetic beauty of the granite itself is showcased. Even though the homeowner's decision to install granite may not be driven by resale value, a professionally designed and installed granite kitchen can add to the value of the house when placed on the market.
---
Several options exist when planning for granite countertops, all of which include pros and cons.
Your installation professional should be able to match grains, provide guidance in the selection process create virtually invisible seams and have the man power needed to safely install your countertops without damaging your home. Professional stone countertops are NOT a DIY job. A single piece can weight 100's of pound and the strength of the stone that makes it so desirable comes with weight which can make the stone brittle if dropped or handled incorrectly. While the do-it-yourselfer can install limited types of granite countertops, nothing compares to the beauty, functionality and enduring value of professionally installed granite.
CLASSIFICATIONS:
"First Choice," "Standard," or "Commercial" grades of stone refer to the purely cosmetic visual aspects of a stone slab as well as the potiential for visual fishers and cracks.
COMMERCIAL
A "Commercial" slab of Uba tuba may be installed in a kitchen with quality or integrity, merely the visual appearence and character of the slab may not fit the recognized standard classification of the stone industry.
STANDARD
Ubatuba have a black or light spot in it larger than the predominant crystal size and structure, and you can cut around the spot and still get two countertop rips out of the full slab, the general consensus on grading would be to call this "Standard Grade."
FIRST CHOICE
Ubatuba also known as Verde Labrador is widely known in most of the world as a Brazilian green speckled color with deep green color, some black and at times some gold flecks in it. This type of speckled stone is judged to be "First Choice" when the colors fit the "general standard"
As you can see from these definitions that each stone can have certain charactoristics that may define its classification standards. It is very hard to judge which stones would fall into each class as a consumer unless you seek out this knowledge.
Stone Levels
Levels are used to group granite price points together. Since stone classifications can affect the price of a stone each stone has different price points based on time in market, desirability, and costs associated to mining the slabs. To also ease the sales process levels are developed to group stones together based on price point to the consumer. These levels are typically level 1-4. Exotics are typically not in a level. Exotics basically means that they are not standard. They may have various names and classifications. Exotics are typically have wide variations in granite countertops costs, color and style. Exotics can be more expensive cost wised based on that they are in the early stage of entry to the market.
Visually inspect the actual stones that will be used in your home.
If you have your heart set on a color then simply review the stone and how it will be cut to fit your job. This is the best way to esure that you receive exactly what you want!
Instant Countertops Estimator
Receive a No Obligation Granite Countertop Quote right now!